The above may be illustrated using a hypothetical example, where a heterozygote is +/m in which + and m differ by single base pair, their being G-C base pair in + allele and A-T base pair in m allele at the corresponding position. At meiosis, each of the four chromatids belonging to two paired homologous chromosomes, will have one DNA duplex thus making four DNA duplexes, of which, at a specific point, only two are involved in recombination process. After interaction of DNA molecules, in heteroduplex segments, mismatches may by represented by G-T pair in one duplex and by C-A base pair in the other (Fig. 13.5). If we consider the fate of only one base pair i.e. G-T, this mismatch may be repaired to restore G-C base pair i.e. + allele or may give rise to A-T base pair i.e. m allele (Fig. 13.6). If no mismatch repair is affected, then the mismatch may be corrected through replication at the first post meiotic mitotic division giving post meiotic segregation. Therefore, the heteroduplex segments may have any one of the following fates shown in Table 13.1 : (i) no mismatch repair or correction, leading to aberrant 4 : 4 segregation with two mixed spore pairs (mm, m+, m+, ++); this represents post-meiotic segregation; (ii) mismatch repair or correction in one heteroduplex DNA giving 3 : 5 ratio (mm, mm, m+, ++), or 5 : 3 ratio (mm, m+, ++, ++); this represents, both gene conversion and post meiotic segregation (pms); (iii) mismatch repair in both heteroduplexes giving a 2 : 6 ratio (mm, mm, mm, ++) or 6 : 2 ratio (mm, ++, ++, ++); this represents gene conversion without pms. Other uncommon ratios are also found and can be explained by mismatch repair at one or both heteroduplex segments in either of the two directions.


Chemistry of the Gene 2. Synthesis, Modification and Repair of DNA for more details on DNA repair)."/>
Fig. 13.6. Correction of mismatched nucleotides in heteroduplex DNA to either wild type or mutant type; the mismatched nucleotides produce a distortion, that will be recognized by a repair system (see Chemistry of the Gene 2. Synthesis, Modification and Repair of DNA for more details on DNA repair).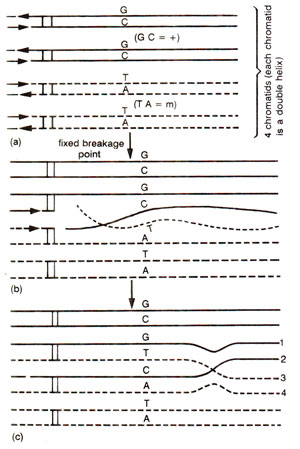 Fig. 13.5. Origin of mismatches in heteroduplex DNA during recombination; (a) four chromatids of two paired homologous chromosomes carrying different alleles (+ = GC; m = AT); (b) breakage of single strands, which cross over to join at one another's breakage point; (c) formation of half chromatid chiasma and two stretches of heteroduplex DNA, (carrying mismatches-GT and CA) extending between breakpoints and chiasma.