Content
On the basis of presence or absence of certain antigens, ABO blood groups have been established in man by K. Landsteiner. It was found that there can be two antigens A or B and as a result four blood groups. These blood groups are called ABO blood groups or Landsteiner blood groups after the name of the discoverer.

With these antigens A and B, there are certain naturally occurring antibodies in the serum of the blood. General principle of antibody and antigen relationships is, that antibodies in a particular individual will be found only for those antigens which are absent in blood of this individual. The status of antigens and antibodies in different blood groups is shown in Table 5.7.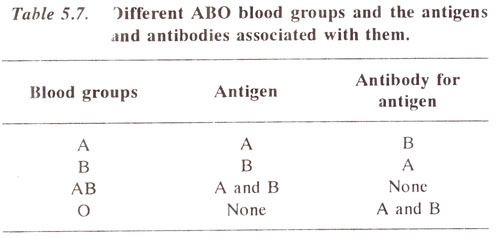 Antibodies in blood group A will be able to agglutinize red blood corpuscles of the blood group B and vice versa. AB blood group will not agglutinize any other group, since no antibodies are present. Similarly, O blood group should be able to agglutinize all other three groups except its own. On this relationship is based the test whether a particular blood group can be donated for another specific blood group. Table 5.8. shows the compatible donor and recipient groups.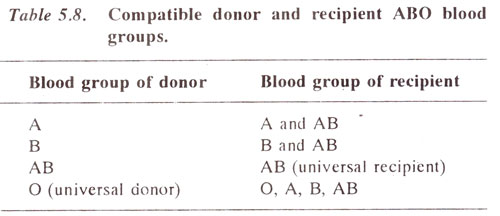 Table 5.8 suggests that, if donor's blood has antibodies against that of recipient, it does not matter, since they get diluted. However, there should be no antibodies in recipient's blood against donor's blood, since this will cause agglutinization of transfused blood. It would also be obvious, that AB is universal recipient and no test of donor's blood in such case is necessary. Similarly, O group is universal donor and no test for the recipient's blood is necessary, if blood of O group is available for transfusion.

In ABO blood groups discussed above, antigens (also called agglutinogens) are present in the red blood cells and antibodies (also called agglutinins) in the serum. Consequently, transfusions can be made after examining the compatibilities of blood groups, so that the transfused blood may not get agglutinated. As shown, the blood group A contains anti-B serum (antibodies for B antigen) and blood group B contains anti-A serum. The effects of anti-A serum and anti-B serum on agglutinization of different blood groups are shown in Figure 5.3.

The genetics of these blood groups indicates that three alleles are present (i) 1° or i or + (ii) IA or A and (iii) IB or B. lA and IB are mutant alleles and are dominant over the wild allele 1° or i or +. This is based on the concept that wild type is one which is more frequent. O and AB blood groups are more frequent and if O is assumed as wild, it yields a convenient system. The genotypes of different blood groups are shown in Table 5.9.

Fig. 5.3. Effects of anti-A (containing antibody A) and anti-B (containing antibody B) sera on corpuscles of four blood groups (O, A, B and AB). A clumped pattern within a circle shows agglutinization of red blood corpuscles.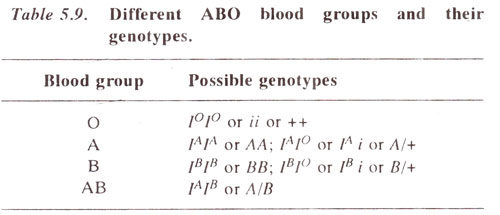 MN series of blood groups in humans
Besides series of ABO blood groups, there are other series like MN blood groups. In case of MN series, human blood serum does not contain any specific antibodies, which will cause agglutinization of any blood group in this series. But if the human blood is injected in rabbit, it causes production of specific antibodies responsible for agglutinization of blood type injected. For instance, if blood of M group is injected in rabbit, it will cause production of antibodies in serum (anti-M serum) causing agglutinization of M as well as MN but not of N. Reverse will be the case, when blood of N type is injected in rabbit, so that anti-N serum produced in rabbit causes agglutinization of N and MN, but not of M.

Landsteiner and Levine (1927) divided human populations into three groups on the basis of reaction with anti-M serum and anti-N serum produced in rabbits. In honour of Landsteiner, the gene for this MN series was named as L and alleles as LM and LN, also now called M and N (Table 5.10). These alleles are co-dominant, so that the heterozygote LMLN gives rise to the blood group MN.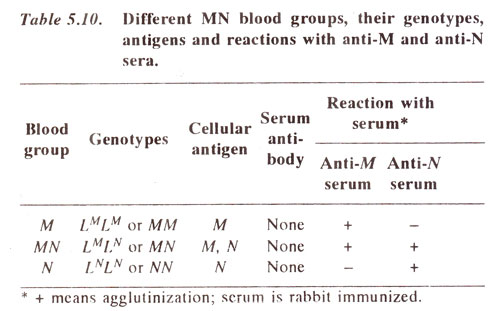 New varieties of MN blood types were discovered by Walsh and Montgomery in 1947. A new blood-type system S3 was shown to be closely tied to the inheritance of MN gene system. Thus four alleles, namely LMS, LMs, LNS, LNs (or MS, Ms, NS, Ns) could be identified and nine blood groups were possible (Table 5.11).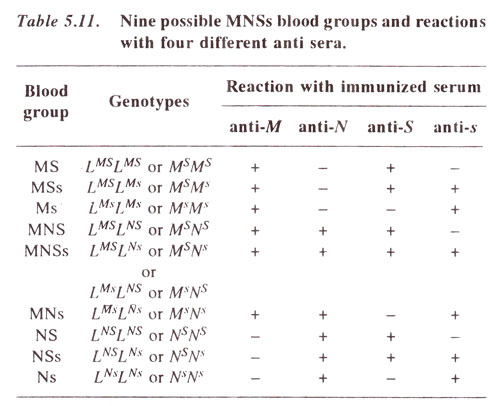 Blood groups and disputed parentage
Blood groups sometimes help to decide cases of disputed parentage in criminal courts, because a particular pair of blood groups in parents may give some and not all blood groups in progeny. Therefore, if a child has a blood group, which is not likely to result from the blood groups of a married couple claiming parentage, then it is proved that the child has a doubtful parentage or in other words is illegitimate. Various possible pairs of blood groups of the parents, their children and the impossible blood groups are given in Table 5.12 for ABO blood groups and in Table 5.13 for MN blood groups. In recent years, however, technique of DNA fingerprinting has become available to decide cases of disputed parentage (see
Human Genetics
).



Rh blood groups and erythroblastosis fetalis
Rh factor was discovered by Landsteiner and Wiener in 1940 from rabbits immunized with the blood of rhesus monkeys (Macacus rhesus). The resulting antibodies in rabbit serum agglutinated blood of not only rhesus monkeys, but also of certain percentage of human beings and these human beings were called Rh+ (Rh positive). The Rh antigen can produce antibodies in human serum also, which may be possible through wrong transfusion of blood. Therefore, to avoid agglutinization, cross-compatibility of Rh factor as well as ABO blood groups is necessary before transfusion of blood is made. Rh negative individuals should always be given Rh-negative blood to avoid subsequent reaction due to antibody formation.

A serious problem occurs, when father is Rh positive and mother is Rh negative. In such cases all children born will be Rh positive, if the father is homozygous (RR). Similarly, half the children will be Rh positive, if the father is heterozygous (Rr). If Rh negative mother carries a Rh positive fetus, in the first case of pregnancy, no serious problem due to Rh+ antigen in child's blood arises, since the concentration of antibodies produced in mother's blood due to immunization by child's Rh+ antigen, will be rather low. But subsequent Rh-positive children will increase the concentration of antibodies in mother's blood due to immunization and this blood while circulating through the fetus may cause death of the fetus due to homolytic jaundice and anemia. This disease is called erythroblastosis fetalis.