The development of an individual from zygote to adult stage takes place through mitotic cell divisions. Although growth also takes place through increase in cell size, but when cell size increases, surface area of cell does not increase in the same proportion as the cell volume. Therefore, cell division helps in growth also by way of increasing surface area of the cells. Therefore, mitosis is a necessity for maintenance and perpetuation of life.

One of the basic requirements of cell division meant for growth should be that it should give rise to two daughter cells, which should resemble each other and also the parent cell qualitatively and quantitatively. The basic outline of such a cell division is the same in all kinds of living forms. It consists of following stages forming a cell cycle. It should be realized that mitotic division is a continuous process and its division into stages is done only for convenience of description. Cell cycle (interphase and mitosis)

In continuously dividing cells, an individual cell passes through four phases, listed in Table 7.1 and diagrammatically shown in Figure 7.1.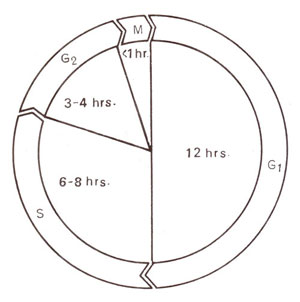 Fig. 7.1. Diagrammatic representation of cell cycle of mouse L cells doubling every 24 hours (redrawn from Lewin's Gene Expression-2).