Fig. 17.16. Chromosomes at meiotic metaphase I in a male Melandrium album plant, showing eleven (11) normal autosomal bivalents and one heteromorphic bivalent involving X and Y chromosomes (drawn from a photograph by Warmke, 1946).


In Melandrium, Y chromosome is longer than X-chromosome, and they form a heteromorphic bivalent at meiosis (Fig. 17.16). Plants having different individual fragments of Y chromosome were also studied and as a result, it was possible to divide Y and X-chromosomes into five different segments. These segments are known to control different stages of development of sex organs (Fig. 17.17). The X and the Y chromosomes have a common segment IV, which helps in pairing and regular disjunction of X and Y chromosomes during meiosis. The remainder of Y chromosome has three segments, namely I, suppressing femaleness; II, initiating anther development and III, controlling late stage of anther development. The X-chromosome also has a differential segment V, which should promote femaleness in the absence of female suppressing segment I on Y chromosome.

In view of the above, while comparing Drosophila with Coccinia and Melandrium, we find that male determining genes are present on autosomes in Drosophila, but on Y-chromosome in these plants.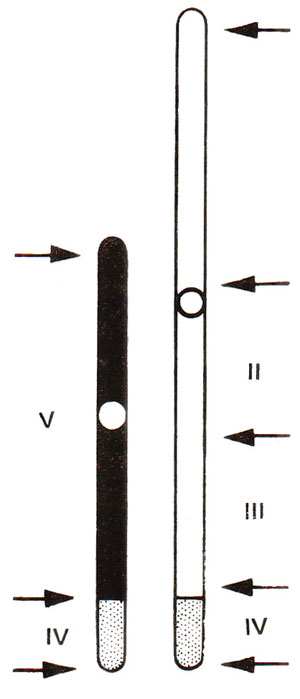 Fig. 17.17. X and Y chromosomes in Melandrium album showing diffe­rent segments (I, II, III, IV, V) control­ling different stages of sex determina­tion and sex differentiation (see text for details).