Two questions on the above experiment could be raised : (i) Could the wild type colonies be produced due to mutations ?, (ii) Could the growth of colonies be attributed to 'cross feeding' (leakage from one strain, of substances, which could be used by the other strain for growth) rather than genetic recombination. The first question could be answered, because if wild type colonies were due to mutation, these should have appeared even on plates incubated with individual strains. Further, the strain being deficient for two or three genes, the possibility of simultaneous mutation in two or three genes would be very remote and therefore, could be ruled out. For the answer to the second question, another experiment was conducted, where a U tube was used, with such a filter that the pores were too small to allow the bacteria to pass, but will be large enough to allow the passage of fluid with the dissolved substances.

Strain A was kept in one arm and strain B in the other arm (Fig. 12.4). After they had been incubated for a few hours, the contents of each arm were separately tested on minimal medium. None of them was found to grow on a minimal medium, suggesting that physical contact between strain A and strain B was necessary for the generation of wild type strains or prototrophs. In other words, gene transfer or genetic recombination involving physical contact was responsible for the appearance of prototrophs.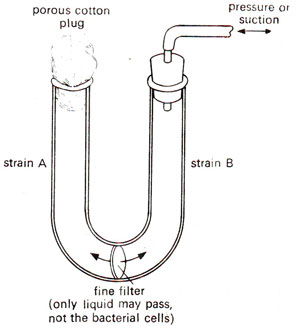 Fig. 12.4. Experiment demonstrating the need of physical contact between bacteria, for genetic recombination to occur (see text for details).