Duplications are obtained due to addition of a part of a chromosome. If duplication is present only on one of the two homologous chromosomes, at meiosis (pachytene), cytological observations characteristic of deficiency will be obtained in duplication also (Fig. 19.6). Duplication of a chromosome segment, may be brought about by addition at any of the following positions : (i) in adjacent region (Fig. 19.7a), (ii) at a displaced position of the same arm (Fig. 19.7b), (iii) on the different arm of the same chromosome (Fig. 19.7c) or (iv) on a different chromosome (Fig. 19.7d). Sometimes the duplication may be found as a reverse repeat (Fig. 19.7e).

One of the classical examples of duplication in Drosophila is Bar eye (Fig. 19.8). Bar eye is a character, where eyes are narrower as compared to normal eye shape. This phenotypic character is due to duplication for a part of a chromosome. By the study of giant salivary gland chromosomes, it could be demonstrated that 'Bar' character was due to a duplication in region 16A of X-chromosome. Barred eyes will have slightly different phenotype in heterozygous and homozygous individuals (Fig. 19.9). Barred individuals (16A 16A)gave rise to ultrabar (16A 16A 16A)and normal -wild type (16A) due to unequal crossing over (Fig. 19.10).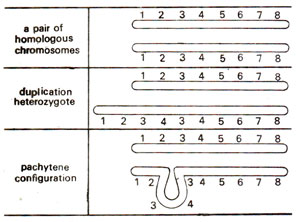 Fig. 19.6. Chromosome pairing in a duplication heterozygote.