Lycopodium is an example of club mosses. These plants are often seen in the woods and may be mistaken for pine seedlings. In fact, they go by the vernacular name "ground pines." The sporophytes produce upright stems, which bear minute leaves, called
microsporophylls
, each having a single, central vein without branches. Stomates can be found on both surfaces of the leaves. The leaves arise without forming leaf gaps( an advanced characteristic found in higher plants and defined as an interruption of the vascular tissue immediately above the leaf trace).
The vascular tissue is similar to that in higher plants. The xylem and phloem alternate, producing a pattern similar to that found in the roots of higher plants. The stems and roots grow up from horizontal rhizomes(stems). Such roots are called
adventitious
. Sporangia are borne in clusters, forming club-shaped strobili (
strobulus
). Spore mother cells undergo meiotic divisions, and the resulting meiospores grow into minute gametophytes.
The gametophytes bear both antheridia and archegonia. Biflagellated sperm cells swim to the venter of the archegonium to fertilize the egg cell, which is then the first cell of the new sporophyte generation.
Some species of
Lycopodium
form small masses of tissue called
bulbils
, which may drop off to form new sporophytes. This is a vegetative means of reproduction; no sex is involved.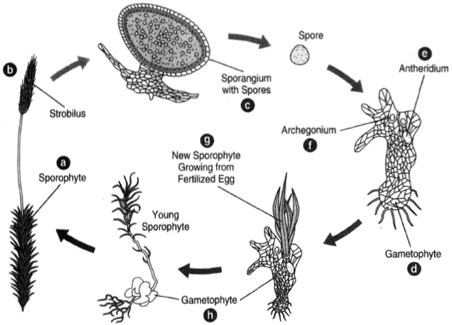 Figure 25-3 Lycopodium. (a) The sporophyte. (b) A strobilus. (c) A longitudinal section through a sporangium with spores. (d) A gametophyte. (e) The antheridium. (f) The archegonium. (g) A new sporophyte beginning to grow up from the fertilized egg in the venter of the archegonium. (h) A gametophyte.