Example
BamHI recognizes 5'-GGATCC-3'
EcoRI recognizes 5'-GAATTC-3'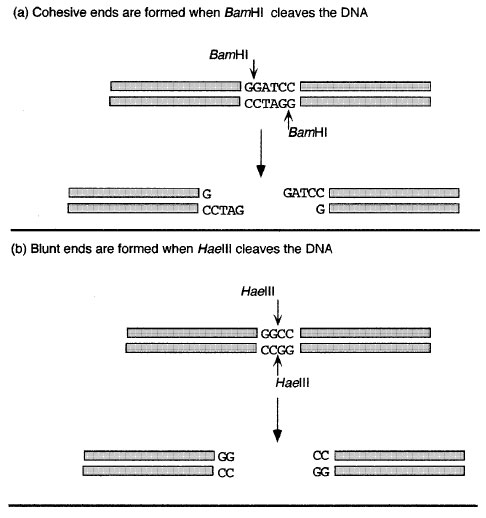 Figure 8-2 Restriction enzymes may form (a) cohesive or (b) blunt ends.
The resulting fragments of a restriction enzyme digestion can be visualized by a procedure known as electrophoresis. Electrophoresis involves the movement of charged molecules or ions through a semisolid support medium under the influence of an electrical field. Agarose gels are common media for the electrophoresis of DNA . The agarose gel, cast as a thin slab in a mold with sample wells at one end, is submerged in a buffer solution with the sample well side toward the negative pole (cathode). The samples are dispensed into the wells and a current from the power supply is applied to the system. Since nucleic acids have a negative charge at pH=8.0, they migrate within the gel matrix from the negative to the positive pole (anode) at a rate dependent upon their size, shape, and total charge. DNA molecules are invisible to the naked eye, but can be seen in gels by staining them with a solution of a dye called ethidium bromide, which intercalates between the stacked bases of the DNA molecule and fluoresces.
The graphical representation of recognition sites for two or more restriction endonucleases is known as a restriction map for that molecule. Knowing the restriction maps for commonly used plasmids and bacteriophage DNA genomes allows scientists to plan cloning stategies for isolating and moving around pieces of DNA that contain genes of interest.