Symmptoms of deficiency and excess
Plants deficient in calcium typically have upper parts of the shoot that are yellow-green and lower parts that are dark green
(36)
(Figure 5.3). Given the abundance of calcium in soil, such a condition is unusual, although it can arise from incorrect formulation of fertilizers or nutrient solutions.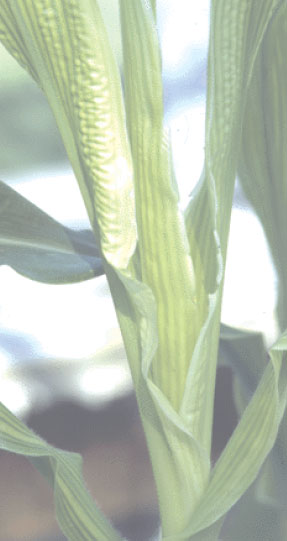 FIGURE 5.3 Calcium-deficient maize (Zea mays L.). The younger leaves which are still furled are yellow, but the lamina of the older, emerged leaf behind is green.
However, despite the abundance of calcium, plants suffer from a range of calcium-deficiency disorders that affect tissues or organs that are naturally low in calcium. These include blossomend rot (BER) of tomato (Figure 5.4 and Figure 5.5), pepper (Capsicum annuum L.), and water melon (Cucumis melo L.) fruits, bitter pit of apple (Malus pumila Mill.), black heart of celery (Apium graveolens L.), internal rust spot in potato tubers and carrot (Daucus carota L.) roots, internal browning of Brussels sprouts (Brassica oleracea L.), internal browning of pineapple (Ananas comosus Merr.), and tip burn of lettuce (Lactuca sativa L.) and strawberries (Fragaria x ananassa Duch.)
(22,37,38)
. Recently, it has been suggested that the disorder 'crease' in navel and Valencia oranges (Citrus aurantium L.) may be caused by calcium deficiency in the albedo tissue of the rind
(39)
.
In these disorders, the shortage of calcium in the tissues causes a general collapse of membrane and cell wall structure, allowing leakage of phenolic precursors into the cytoplasm. Oxidation of polyphenols within the affected tissues gives rise to melanin compounds and necrosis
(40)
. With the general breakdown of cell walls and membranes, microbial infection is frequently a secondary effect. In the case of crease, calcium deficiency may give less adhesion between the cells of the rind, as the middle lamella of these cells is composed largely of calcium salts of pectic acid
(39)
.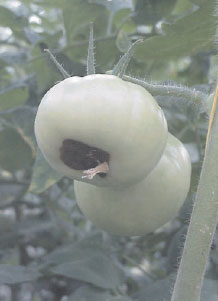 FIGURE 5.4 Fruit of tomato (Lycopersicon esculentum Mill. cv Jack Hawkins) (Beefsteak type) showing blossom-end rot (BER).
Local excess of calcium in the fruit gives rise to goldspot in tomatoes, a disorder that mostly occurs late in the season and that is pronounced with high temperature
(41)
. The disorder 'peteca' that gives rise to brown spots on the rind of lemons (Citrus limon Burm. f.) is associated with localized high concentrations of calcium (as calcium oxalate crystals) and depressed concentrations of boron, although this phenomenon has not yet been shown to be the cause of the disorder
(42)
.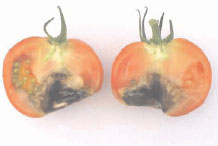 FIGURE 5.5 Cross section of fruit of tomato (Lycopersicon esculentum Mill. cv Jack Hawkin) showing advanced symptoms of BER.
Given the suggestion that calcium may be involved in cell-to-cell adhesion and in the ripening of fruit, it is hardly surprising that in pome fruits, firmness of the fruit is correlated positively with the concentration of calcium present
(43)
. However, this relationship is by no means straightforward; in a study of Cox's Orange Pippin apples grown in two orchards in the United Kingdom, there were lower concentrations of cell wall calcium in the fruit from the orchard that regularly produced firmer fruits than in fruits from other orchards
(44)
. The fruits from this orchard contained higher concentrations of cell wall nitrogen.
Other studies have shown no relationship between calcium concentration in apples at harvest and their firmness after storage, but it is definitely the case that fruit with low Ca
2+
concentrations are more at risk of developing bitter pit while in storage
(45)
.