Hypothetical frequencies of eight types of progenies are listed in Table 10.2. The following procedure will be followed for the preparation of If crossing over, i.e. recombination value (per cent) between
A
and
B
is called X, that between
B
and
C
is called Y and that between
A
land
C
is called Z, then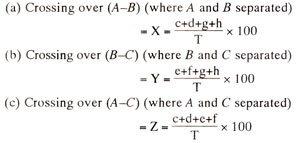 From the above values of X, Y and Z, order of genes can be worked out and the linkage map can be prepared using the following criteria : if Z = X + Y, order of genes is
A-B-C;
if Z = X - Y, order of genes is
A-C-B,
if Z = Y - X, order of genes is
B-A-C.
Preparation of a linkage map can be further illustrated by using an example from maize involving three endosperm characters. These three characters are
coloured aleurone (C)
versus
colourless aleurone (c), full endosperm (Sh)
versus
shrunken endosperm (sh)
and
non-waxy endosperm (Wx)
versus
waxy endosperm (ws).
The data reported by
C.B. Hutchinson
in 1922 in a three-point testcross are presented in Figure 10.9. As shown in previous hypothetical example, three recombination values i.e.
C-Sh, Sh-Wx
and
C-Wx
would be worked out in order to find out the linear order of the three genes
C, Sh
and
Wx.