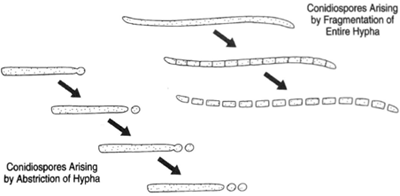 Figure 19-2 Conidiospores may arise from the end of a hypha by
either abstriction or the fragmentation of the entire hypha.
Asexual reproduction occurs by the formation of conidiospores. Conidiospores are produced either at the ends of hyphae by abstriction, or all at once by the fragmentation of the hypha.
The perfect stagein the reproductive cycle involvetsh e formation of asci, and while the details vary in different species,
Pyronema confluens
is fairly typical of the subclass (figure 19-3).
Pyronema confluens
appears to grow only in burned-over areas. When male and female mycelia intermingle, a saucershaped fruiting body called an
apothecium
develops. A mat of hyphae called the
hymenium
grows in the floor of the apothecium (see figure 19-4c).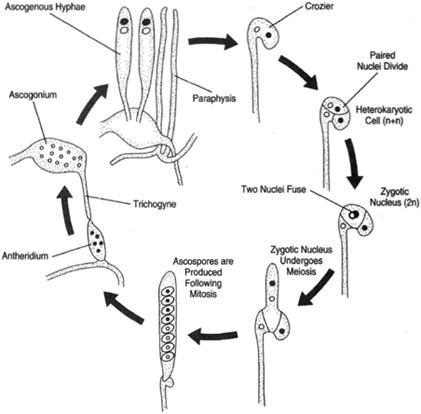 Figure 19-3 Ascus formation in detail. At left, the trichogyne from the
ascogonium makes contact with the antheridium. Ascogenous hyphae
arise from the ascogonium and develop a crozier. The paired nuclei
divide and cross walls form between daughter nuclei. Two nuclei in the
apical cell fuse followed by meiosis and a single mitotic division to
produce eight ascospores.
Antheridia and oogonia arise from separate hyphae in the hymenial layer. The multinucleated oogonium, here more properly called the ascogonium, produces a tubular emergence called the trichogyne. The antheridium arises nearby. The trichogyne makes contact with the antheridium. At the point of contact, the walls break down and allow the passage of the male nuclei through the tube to the ascogonium, where they pair witthhe female nuclei. Fusion of the nuclei, however, is delayed. At. this point, hyphae, which are destined to become asci, grow upwardly from the ascogonium. A pair of nuclei migrates into the ascogenous hypha. The hypha develops a bend called a
crozier
. The nuclei, paired but not fused, divide. Cross walls then form between the daughter nuclei. The terminal cell is thus still binucleated (
dikaryotic
). These nuclei then fuse, at which time the cell is regarded as a zygote. Following nuclear fusion, the diploid zygote undergoes, first, meiosis and, then, one mitotic division, resulting in an ascus containing eight ascospores. During the same time, other hyphae in the floor of the apothecium send up sterile branches that can be seen mingled with the asci. These sterile filaments are the
paraphyses
. A small circular opening develops at the upper end of the ascus, allowing the escape of the ascospores. Were all of the ascospores to
germinate
, four would yield male mycelia and four would yield female mycelia.