The pigments in Xanthophyta are chlorophyll a, possibly chlorophyll e (although there is some uncertainty related to a suspicion that its presence may be connected to limitations in extraction methods), and an abundance of carotenoid pigments. Motile cells have two unequal flagella: a tinsel-type flagellum that extends anteriorly and a whiplash flagellum that trails posteriorly. There are approximately 400 species.
The life cycle of
Vaucheria
is detailed as an example of this phyla. Vuucheriu is a coenocytic form. In asexual reproduction, a large multinucleated zoospore is produced in a terminal sporangium. In forming the sporangium, a cross wall develops at the base of the sporangium, thereby separating the sporangium from the rest of the cytoplasm. When the zoospore is ready to be released, a hole develops at the apical end of the sporangium.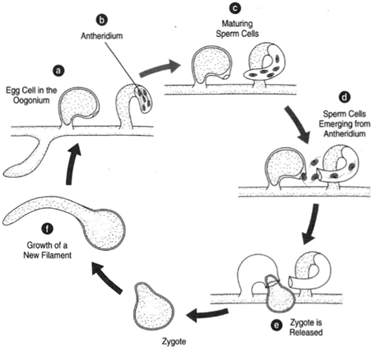 Figure 16-2 Sexual reproduction in Vaucheria. (a) An egg
cell in the oogonium; (b) antheridium; (c) maturing sperm
cells; (d) sperm cells emerging from the antheridium;
(e) and (f) the zygote and growth of a new filament.
The zoospore then emerges and can grow into a new filament.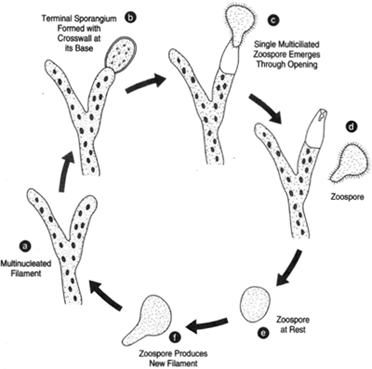 Figure 16-1 Asexual reproduction in Vaucheria. (a) The
multinucleatedfilament. (b) A terminal sporangiumf orms
and a cross wall develops at the sporangium's base. (c) A
single, multiciliated zoospore emerges through an
opening. (d) Zoospore at rest,( e), and producing a new
filament, (f).
In sexual reproduction, both antheridiaan d oogonia are formed. In some forms, this happens on different filaments, in other forms, on the same filament.
Vaucheria
is distinctly oogamous. Figure 16-2 shows an oogonium arising from the filament. The oogonium is at first multinucleated, but in maturity (after a wall forms to separate it from the remainder of the cytoplasm), it contains a single, uninucleated egg. Nearby is an antheridium, in which a largen umber of biflagellated sperm cells form. When the sperm cells emerge, one of them may enter a pore in the oogonium and fuse with the egg cell. It is interesting to note that in this coenocytic filament where many nuclei reside, some of the nuclei travel up into oogonia and, in time, develop into female gametes, while some others from very nearby migrate into the antheridium, where they adopt the role of sperm cells.