Promiscuous DNA
(Movement of DNA between mitochondria, chloroplasts and nucleus)
During 1982-84, several evidences suggesting transfer of DNA from chloroplasts to mitochondria and from both these organelles to the nuclear genome, have been reported. In a report from Plant Breeding Institute, Cambridge, U.K. in 1983, it was suggested that apparent translocation of DNA sequences from chloroplasts to mitochondria has taken place in corn. This conclusion was based on the discovery that a 12 kilobase segment of mitochondrial DNA (mtDNA) was homologous to a section of chloroplast DNA (cpDNA) of same organism, corn. During the same period, a report from Texas, U.S.A., described the same phenomenon in yeast, where a segment of mtDNA showed similarity with a segment in nuclear DNA, suggesting flow of DNA from mitochondria to nucleus. A similar report of transfer of mtDNA to nucleus in sea urchin also came from California Institute of Technology. In 1984, more reports of promiscuous DNA came from different places in materials like mungbean, spinach, corn and peas, suggesting that movement of DNA sequences among organelles and between organelles and nucleus must be very common and not exceptions. The movement of DNA among mitochondria chloroplasts and nucleus are shown in Figure 29.15.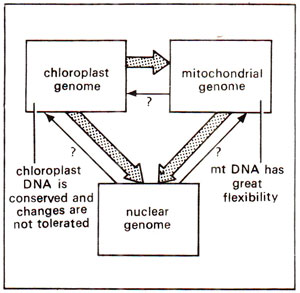 Fig. 29.15. Exchange of genetic material between nuclear genome, chloroplast genome and mitochondrial genome. Thick arrows indicate transfer of promiscuous DNA for which evidence is available.