Once the garden is designed, it needs to be planted but the beds must be prepared first. There are numerous ways to prepare a garden bed. Most of them involve tilling the soil with a shovel. Soil that is loosened to a depth of 1 foot (0.3 meter) will accommodate most garden plants. Larger garden areas may be tilled with a gas-powered rototiller, which can be rented for the day. The beds should be narrow enough that you can comfortably reach across and work with plants. The length of the beds can vary according to available space and the amount of effort you are able to put into the garden, but is usually no longer than 50 feet (15 m). Paths between beds need to be large enough to accommodate a wheelbarrow or garden cart.
Figure 7.3 Raised beds can be made from wood, stone, or concrete. Stone was used for raised beds at the Villa Ruffolo in Ravello, Italy (LEFT), while wood was the material of choice for raised beds in this private garden in Swanton, Vermont (RIGHT).
Raised beds are often used because they provide easier access to the crops and require less digging to prepare (Figure 7.3). They may be enclosed with wooden boards, or stone or concrete blocks. Pressure-treated wood is avoided because it can leach toxic chemicals into your soil. Raised beds are on average about 8 inches (20.3 centimeters) high. Some root crops may require a depth of 1 foot (0.3 m) and some crops, such as lettuce, can be 6 inches (15.2 cm) high. The beds can be filled with homemade compost and soil from your yard, or you can purchase soil and compost from a nursery.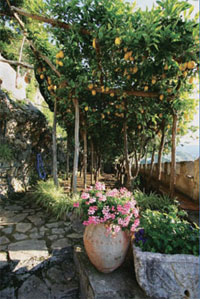 Figure 7.4 A small lemon grove
and flowers in planters create a
lush garden in a small space.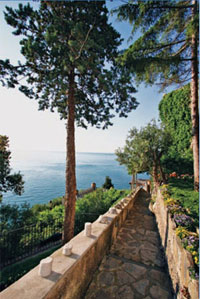 Figure 7.5 The use of a retaining
wall to create level garden beds
is widely used on the steep
Amalfi coast of Italy, as
demonstrated by this garden at
the Villa Scarpariello.
It is also important to know the history of land use where you want to plant your garden. If the former owners have used high amounts of pesticides, it may affect your ability to grow plants. Also, certain soils should not be disturbed to create a garden, as they have a more important purpose, such as habitat for rare plants or animals and wetlands. Poor soil may be difficult to bring into good tilth; you may have better success with containers.
Container growing is an option that has become increasingly popular. Crops grown in containers require less preparation and maintenance than those grown in garden beds, and they can be moved. Two additional benefits to container horticulture are fewer problems with microbial diseases and weeds. Containers can be made of clay, plastic, wood, or metal. Plastic holds water better than the other materials and is lighter. Wood helps keep the soil temperature from wide fluctuations. Metal may get very hot. Clay dries out fairly quickly and can break more easily than the others but is good for use with plants, such as cactus and succulents, that prefer to be kept on the dry side. Containers should have holes at the bottom to allow for drainage or they can be modified so that they retain water away from the roots, in a bottom reservoir under an absorbent material. These are the socalled self-watering containers and are especially useful in arid climates. When space is an issue, you can create a vertical garden with plants that like to climb, by placing containers near walls or by using a trellis (Figure 7.4).
You can create microclimates in your garden to modify your climate and increase your options for the types of plants you can grow. For example, you may be able to grow cold-sensitive plants against a south-facing wall that holds heat if you cover them with a straw mulch in the winter. Plants that are sensitive to cold temperatures can also be protected with plastic or glass enclosures or row covers. Windbreaks are used to slow the wind before it gets to the garden. Open-weave fences with some spaces, such as a lattice or woven branches, break up the wind very well. Solid structures tend to generate wind currents. Living fences can be created with small trees or hedges; steep slopes can be modified with terraces. Terraces create level garden beds on steep slopes through the use of retaining walls (Figure 7.5).
If you live in an urban area and do not have access to a balcony or rooftop, you may be able to join a community garden in your neighborhood. Community gardens are often created in vacant lots. You may volunteer your time to help clean up the lot in exchange for a plot in which to grow your garden. You may also try to grow plants indoors in containers either on a sunny windowsill or with the aid of supplemental lights. The ancient horticultural art of
bonsai
creates miniature landscapes in small containers.