Exposure to low pH. At low pH (below 4), some bases become positively charged and strand separation occurs, which may be lethal. At pH 4 or above, this effect is negligible. But low pH can effect DNA by two additional reactions which are active even above pH 4.

(a) Depurination.Complete removal of adenine (A) or guanine (G) at low pH has been reported. At pH 1-6, guanine (G) is liberated initially more readily than adenine (A). This will lead to base pair substitutions which could be either transversions or transitions (Fig. 23.27).

(b) Backbone breakage. At low pH (even as low as 1-6), backbone breakage also occurs. Whenever the sugar-phosphate backbone breaks, it should be lethal.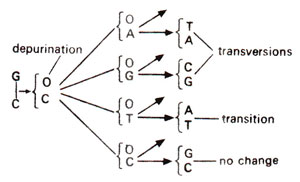 Fig. 23.27. Four different possibilities following depurination in GC base pair. Note that both transversion and transition may be induced.