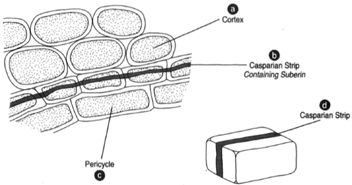 Figure 33-6 The endodermis, a single layer of cells,
has a band of suberin called the Casparian strip,
(b), which lies along the radial and transverse walls.
The Casparian strip is postulated to influence the
inward and outward flow of water from the cortex
(a), to the pericycle, (c), and reverse.
Close examination of the endodermis reveals closely packed cells having thickened walls and lacking intercellular spaces. There is also a strip of suberin called the
Casparian strip
(see figure 33-6). This strip lies on radial and transverse walls. Suberin is a waxy material that inhibits the passage of water. The positioning of the Casparian strip appears to block the lateral movement of water, both in and out, through the cell wall. Because the secondary wall does not exert selectivity, and the Casparian strip appears to occlude the passage of water through the walls, it is theorized that the protoplasm, or, more particularly, the cell membranes, exercise control over lateral water flow by selective permeability. Although it has been hypothesized that this may be in some way related to root pressure, the fact that not all of the endodermal cells have such a strip seems to undermine this hypothesis. Just beyond the points of the primary xylem, cells of the endodermis are not impregnated with suberin and water can move freely through the endodermis. Such cells can occur singly or in small clusters at other points around the endodermis. These cells are called
passage cells
because they allow the free passage of water and solutes to and from the inner region.