The role of the vegetative stage in the life cycle of the plant is to grow rapidly and establish the individual in competition with others. It must therefore photosynthesize effectively and be capable of responding to good growing conditions. Growing rooms with near-ideal conditions of light, temperature and carbon dioxide utilize this capacity that will reduce with the ageing of the plant (see
Plant growth
).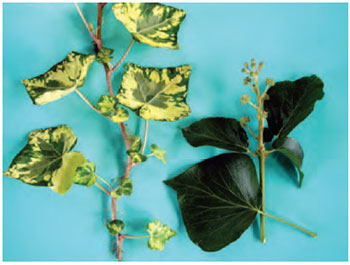 Figure 11.4 Juvenile growth on left, showing
adventitious roots and lobed leaf, adult growth on
right showing flowers and entire leaf, in ivy
(Hedera helix)

Juvenility
The early growth stage of the plant,
juvenile
growth, is characterized by certain physical appearances and activities that are different from those found in the later stages or in
adult
growth. Often leaf shapes vary; e.g. the juvenile ivy leaf is three-lobed while the adult leaf is more oval, as shown in Figure 11.4 . The habit of the plant is also different; the juvenile stem of ivy tends to grow horizontally and is vegetative in nature, while the adult growth is vertical and bears flowers. Other examples are common in conifer species where the complete appearance of the plant is altered by the change in leaf form, for example,
Chamaecyparis
fletcheri
and many
Juniperus
species such as
J. chinensis
. In the genera
Chamaecyparis
and
Thuja,
the juvenile condition can be achieved permanently by repeated vegetative propagation producing plants called
retinospores,
which are used as decorative features.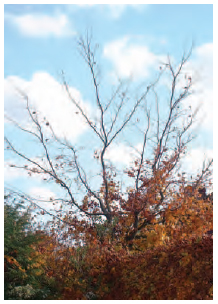 Figure 11.5 Leaf retention in the
lower juvenile branches of
beech (Fagus sylvatica);
compare with the bare
adult branches
Leaf retention
is also a characteristic of juvenility. It can be significant in species such as beech (see Figure 11.5), where the phenomenon is exaggerated, and the trees can be pruned back to the vegetative growth. This can create additional protection in
windbreaks
although the barrier created tends to be too solid to provide the ideal wind protection.
Many species that require an environmental change to stimulate flower initiation, such as the Brassicas that require a cold period, will not respond to the stimulus until the juvenile period is over; about eleven weeks in Brussels sprouts.
The adult stage essential for sexual reproduction is less useful for vegetative propagation than the responsive juvenile growth, a condition due probably to the hormonal balance in the tissues. Figure 11.4 shows the spontaneous production of adventitious roots on the ivy stem. Adult growth should be removed from
stock plants
to leave the more successful juvenile growth for cutting.
The ability of the plant to reproduce vegetatively is widely used in horticulture and these methods, both natural and artificial, are detailed in
Plant propagation
.