Sugars polymerize to make starch and cellulose. Figure 4-16 shows two formulas for glucose.
It is necessary to show both formulas because both forms of glucose exist. The formula at left is a common way of representing glucose. It shows the oxygen atom at the end of the molecule: −C = O. At right, the oxygen atom is shown sharing its bonds with carbon atoms one and five. This is the way glucose occurs when dissolved in water. When starch is digested, it is broken down by
enzymes
into molecules of glucose, a
monosaccharide
, or
simple sugar
(so-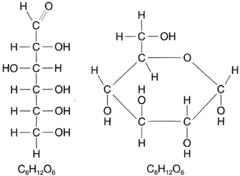 Figure 4-16 When glucose is dissolved
in water, a linkage develops between carbon-1
and carbon-5, as shown at right.
called because it is the smallest form that results from digestion).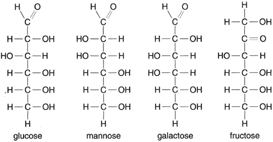 Figure 4-17 The four sugars glucose, mannose,
galactose, and fructose all have the
same empirical formula, C6H12O6.
Figure 4-17 shows
structural formulas for several simple sugars. Note that while each one is a different sugar, all have the same empirical formula: C
6
H
12
O
6
. This again emphasizes the need for structural formulas in organic and biological chemistry. All the sugars shown in figure 4-17 are 6-carbon sugars and are thus called
hexoses
. Sucrose, common table sugar, is a 12-carbon sugar. When acted on by the enzyme invertase, sucrose is broken down into two molecules of 6-carbon sugar: one of glucose and one of fructose. Sucrose is, thus, a
disaccharide
.
The formula for glucose as shown at the right in figure 4-16 can be abbreviated (see figure 4-18). Starch, then, can be shown as in figure 4-19. Both starch and cellulose are polymers of glucose: yet they are different compounds. How does this occur? Although it is difficult to show on a flat surface, figure 4-20 illustrates the two forms of glucose: alpha-glucose (α-glucose) and beta-glucose (β-glucose). The difference between α-glucose and β-glucose is found in the orientation of atoms. Atom orientation affects the linkages when the sugar is polymerized into starch or cellulose. Where as starch is composed of α-glucose units, cellulose is composed of β-glucose units. Different kinds of enzymes are involved in their digestion.
| | | |
| --- | --- | --- |
| Figure 4-18 Abbreviation of the glucose formula. | Figure 4-19 Abbreviation of the starch formula | Figure 4-20 Alpha-glucose and beta-glucose. |