Outcomes of the phenylpropanoid (C
6
C
3
) pathway (Fig. 13.1) include not only the lignins in woody/nonwoody vascular plants but also, to varying extents, lignans, flavonoids, coumarins, anthocyanins, as well as allyl and propenyl phenols in different species. This pathway has attracted much attention since the 1960s, and the various biochemical steps—including the historical development of this field—were comprehensively discussed (Lewis
et al
., 1999), as were the trends observed in various genetic manipulations of the monolignol pathway and the corresponding downstream effects on lignification (Anterola and Lewis, 2002).A common theme that has emerged is the action of several enzymes of the phenylpropanoid pathway (e.g., hydroxylases,
O
-methyltransferases) not on free hydroxycinnamic acids, as previously believed, but on hydroxycinnamic esters, alcohols, and aldehydes. [For needed context, lignin assembly mainly utilizes three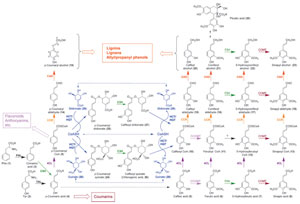 FIGURE 13.1 Current view of the
phenylpropanoid pathway. 4CL,
hydroxycinnamoyl CoA ligases; C3H,
p-coumarate 3-hydroxylase; C4H, cinnamate
4-hydroxylase; CAD, cinnamyl alcohol
dehydrogenases; CCOMT, hydroxycinnamoyl
CoA O-methyltransferases; CCR, cinnamoyl
CoA oxidoreductases; COMT, caffeic acid
O-methyltransferase; F5H, ferulate
5-hydroxylase; HCT/HQT, hydroxycinnamoyl
shikimate/quinate transferase; PAL, phenylalanine
ammonia lyase; TAL, tyrosine ammonia lyase.
(See Page 22 in Color Section.)
monolignols as monomers, namely the phenylpropanoid pathwayderived
p-coumaryl
(
19
), coniferyl (
21
), and sinapyl (
23
) alcohols (Fig. 13.1), giving rise to H (hydroxyphenyl), G (guaiacyl), and S (syringyl) moieties (''units''), respectively (Fig. 13.2). The H and G units are present in the lignin of gymnosperms and ''primitive'' plants, with angiosperms also containing S components, the latter being associated with fiber/vessel formation (Lewis
et al
., 1999)].