The electron on Q
A
-is then transferred to Q
B
-site. As already stated, plastoquinone at the Q
B
-site differs from plastoquinone at the Q
A
-site in that it works as a two-electron acceptor and becomes fully reduced and protonated after two photochemical turnovers of the reaction center. The full reduction of plastoquinone at the Q
B
- site requires the addition of two electrons and two protons. The reduced plastoquinone (plastoquinol, Q
B
H
2
) then unbinds from the reaction center and diffuses in the hydrophobic core of the membrane, after which an oxidized plastoquinone molecule finds its way to the Q
B
-binding site and the process is repeated. Because the Q
B
-site is near the outer aqueous phase, the protons added to plastoquinone during its reduction are taken from the outside of the membrane. Electrons are passed from Q
B
H
2
to a membrane-bound cytochrome
b
6
f
, concomitant with the release of two protons to the luminal side of the membrane. The cytochrome
b
6
f
then transfers one electron to a mobile carrier in the thylakoid lumen, either plastocyanin or cytochrome
c6
. This mobile carrier serves an electron donor to PSI reaction center, the P
700
. Upon photon absorption by PSI a charge separation occurs with the electron fed into a bound chain of redox sites; a chlorophyll a (A0), a quinone acceptor (A1) and then a bound Fe–S cluster, and then two Fe–S cluster in ferredoxin, a soluble mobile carrier on the stromal side. Two ferredoxin molecules can reduce NADP
+
to NADPH, via the flavoprotein ferredoxin-NADP
+
oxidoreductase. NADPH is used as redox currency for many biosynthesis reactions such as CO
2
fixation. The energy conserved in a mole of NADPH is about 52.5 kcal/mol, whereas in an ATP hole is 7.3 kcal/mol.
The photochemical reaction triggered by P700 is a redox process. In its ground state, P700 has a redox potential of 0.45 eV and can take up an electron from a suitable donor, hence it can perform an oxidizing action. In its excited state it possesses a redox potential of more than -1.0 eV and can perform a reducing action donating an electron to an acceptor, and becoming P700+. The couple P700/P700+ is thus a light-dependent redox enzyme and possesses the capability to reduce the most electronnegative redox system of the chloroplast, the ferredoxin-NADP+ oxidoreductase (redox potential = -0.42 eV). In contrast, P700 in its ground state (redox potential = 0.45 eV) is not able to oxidize, that is, to take electrons from water that has a higher redox potential (0.82 eV). The transfer of electrons from water is driven by the P680 at PSII, which in its ground state has a sufficiently positive redox potential (1.22 eV) to oxidize water. On its excited state, P680 at PSII reaches a redox potential of about –0.60 eV that is enough to donate electron to a plastoquinone (redox potential = 0 eV) and then via cytochrome b6f complex to P700+ at PSI so that it can return to P700 and be excited once again. This reaction pathway is called the "Z-scheme of photosynthesis," because the redox diagram from P680 to P700 looks like a big "Z" (Figure 3.4).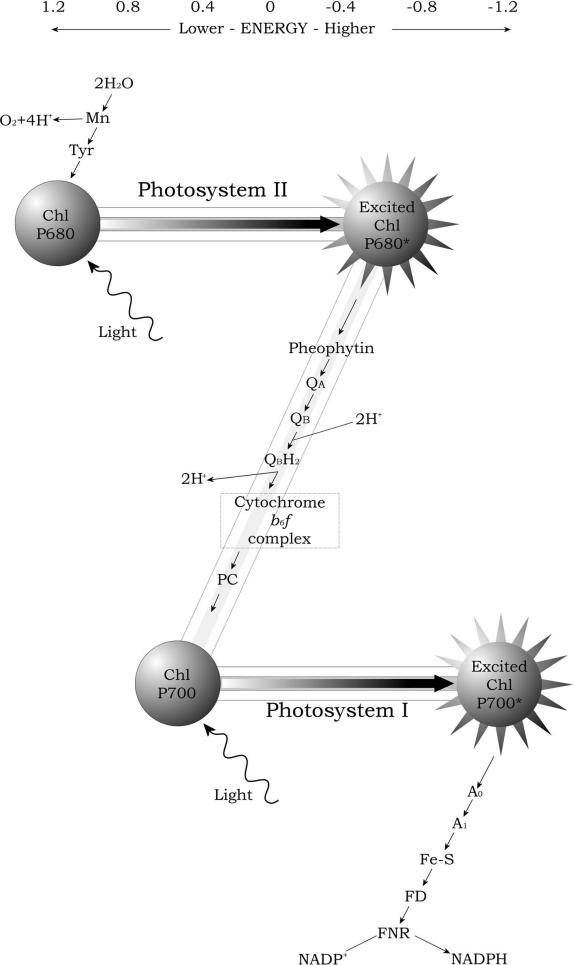 FIGURE 3.4 Schematic drawing of the Z-scheme of photosynthetic electron transport, with the positions of the participants on the oxido-reduction scale.
From this scheme it is evident that only approximately one third of the energy absorbed by the two primary electron donors P
680
and P
700
is turned into chemical form. A 680 nm photon has an energy of 1.82 eV, a 700 nm photon has an energy of 1.77 eV (total = 3.59 eV) that is three times more than sufficient to change the potential of an electron by 1.24 eV, from the redox potential of the water (0.82 eV) to that of ferredoxin-NADP
+
oxidoreductase (-0.42 eV).
It is worthwhile to emphasize that any photon that is absorbed by any chlorophyll molecule is energetically equivalent to a red photon because the extra energy of an absorbed photon of shorter wavelength (<680 nm) is lost during the quick fall to the red energy level that represents the lowest excited level.