The bacteriophages which cause lysis of bacterial cells (as described above) are called 'virulent' phages. There are other phages called 'temperate' phages, which may either cause lysis like virulent phages do, or may attach to bacterial chromosome thus forming its integral part (Fig. 12.19). In the latter case, phage DNA would replicate only when bacterial chromosome replicates and will stay ihere as a symbiont rather than as a parasite. In this state virus is called 'provirus', and intected bacteria are called lysogenic, which means that the bacterial cell contains a property which can cause lysis. When lysogenic bacteria are exposed to ultraviolet light or X-rays or active chemicals like nitrogen mustard or organic peroxide, the temperate virus assumes a virulent state (Fig. 12.20).

Particles like temperate phages, which can remain in integrated as well as in free state within a cell and are dispensable elements are given the term 'episomes'. The sex factor or F factor earlier described in this section is another class of episomes.



Fig. 12.20. Conversion of lysogenic state to virulent state in a temperature phage infected bacterium.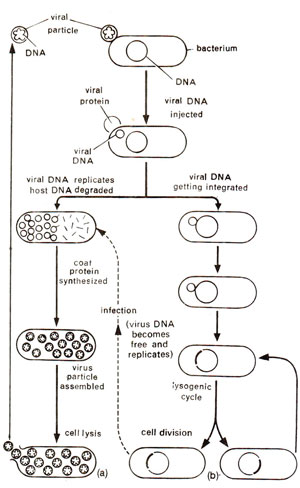 Fig. 12.19. The life cycle of temperate phages, showing two patterns : (a) on the left is shown the virulent state and, (b) on the right is shown the lysogenic state, where the virus particle attaches to bacterial chromosome, but may become free and virulent at a later stage.