In D. melanogaster, the giant chromosomes are found in the form of five long and one short strands radiating from a single more or less amorphous mass known as chromocentre (Fig. 6.17). One long strand corresponds to the X chromosome and the remaining four long strands are the arms of II and IIIchromosomes. The centromeres of all these chromosomes fuse to form the chromocentre. In the male flies the Y chromosome is also found fused within the chromocentre and is therefore not seen as a separate strand.

How an enormous increase in size of these chromosomes is brought about in salivary glands is not known and various hypotheses are available to explain this issue. The reader should consult Swanson's book, Cytology and Cytogenetics, to get a relatively detailed account of these hypotheses. It should, however, be emphasized that these giant chromosomes though, commonly found in salivary glands, have also been found in malpighian tubules, fat bodies, ovarian nurse cells, gut epithelia and some other tissues.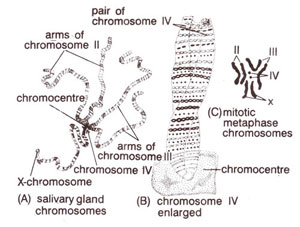 Fig. 6.17. Salivary gland chromosome (A, B) and mitotic chromosomes (C) of Drosophila melanogaster (redrawn from Swanson : Cytology and Cytogenetics).