This sequence differs slightly from the consensus sequence for Pribnow box (TATAAT) described in the previous topic, where it was shown that among prokaryotes the range of conservation of bases varies from 45% to 96%. There are other common sequences located at -30 and -60 bases (upstream), the latter being CAP site, which is marked by an interrupted three base pair inverted repeat, flanked by non-inverted T-A base pair on either side as follows.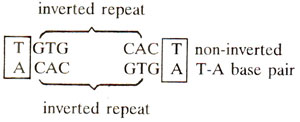 This CAP binding site is common to
lac,gal
and
ara
operons. It lies within -53 to -23 bp in
gal
operon,bctween -72 to -52bp in
lac
operon and between -107 to -78bp in
ara
operon.