| | |
| --- | --- |
| | Like Melandrium, in Homo sapiens (human beings), mice, goats, etc. also, Y-chromosome controls the sex. Conclusive evidence in this connection came from certain abnormal individuals (called syndromes). Turner's syndromes (XO) named after Turner, who discovered them, are sterile female individuals having certain abnormalities. Similarly, Klinefelter's syndromes (XXY) named after Klinefelter are males, despite presence of two X-chromosomes. In contrast to this, a Drosophila fly with 2A + XXY, which is exactly like Klinefelter's syndrome of human beings in chromosome constitution, is a normal female individual and XO Drosophila fly is male. This obviously suggests that in human beings sex determining mechanism is essentially like that in plants (Coccinia and Melandrium)and not like that in Drosophila. |
| | | |
| --- | --- | --- |
| XX males and XY females showing sex reversal in mammals (mice, goats, human beings) Sex reversal in mice. In mice, recently XX male individuals and XY female individuals have been reported. The sex reversed XX males in mice resulted due to transfer of a sex reversing factor (Sxr)from a Y chromosome carrying a duplication for a region of its minute short arm translocated to the distal end of its long arm (this Y chromosome was designated YSxr). This duplicated segment was transferred to X-chromosomes due to crossing over during male meiosis and was then found to be on the distal arm of X-chromosome, which presumably pairs with a segment of Y chromosome (Fig. 17.18). The presence of Sxr on the distal arm of one of the two X's in Sxr XX males was confirmed as follows : (i) When X derived from male parent (Sxr XX) was inactivated (there are techniques available to preferentially inactive paternal X-chromosome), the derived Sxr XX develops not into males, but into hermaphrodites or females, (ii) When a chromosome specific DNA sequence (called Bkm sequence) was used for in-situ hybridization, this Bkm sequence, ordinarily found on Y, could be located on a X chromosome of Sxr XX males. It was also shown that Y chromosome has two.regions of Bkm sequences, one in the normal centromeric region and the other at the distal end of the chromosome. | | Fig. 17.18. The inheritance of sex reversal gene Sxr carried by Y chromosome (note its transfer to X chromosome due to crossing over). |
In the above situation, if a normal female is crossed with a XY Sxr carrier male, then normal females, Sxr XX males, XY Sxr carrier males and non-carrier XY males are obtained (Fig. 17.18). Such a situation has actually been confirmed and can be confused with autosomally inherited genes, and therefore sometimes called a pseudoautosomally inherited condition. When Bkm sequence, (responsible for sex reversal) is restricted to centromeric region, it is responsible for XY male individuals, but when it is also present in the distal region, it may be transferred to X chromosome and may cause sex reversal.

Cases of XY females or hermaphrodite mice have also been reported and atleast following two genes are said to be involved : (i) Tdy (or testis determining Y) gene lying close to Bkm in centromeric region of Y and (ii) Tda-1 (or testis determining autosomal) which is autosomal. There may be other autosomal genes also and one (Tas)is located on chromosome 17 of mice causing sex reversal. Another gene is testis feminizing gene (Tfm)causing XY mice to become females. One of the two sexes of sex reversed mice has also been shown to exhibit abnormal sex determination through a Y chromosome derived from Mus poschiavinus, a subspecies of M. domesticus. This Y chromosome was designated as Ypos and is believed to carry Tdy, Tda-1or any other autosomal gene for sex reversal. Tdy, though responsible for normal male development, may interact with Tda-1or other autosomal genes causing sex reversal.

Fig. 17.19. Chromosome constitution of XY male human and the transfer of a segment of Y to X chromosome due to abnormal crossing over, leading to sex reversed XY females and XX males.
Sex reversal in goats and human beings. Cases of XX sex reversal were also reported in goats and humans. In human beings, 1 in 20,000 males have a female (XX) chromosome constitution and 1 in 100,000 females have a male (XY) chromosome constitution. It has been shown that these XX sex reversed males may result from either of the following two reasons : (i) due to transfer of a segment (called
TDF
= testis determining factor) of Y chromosome to X due to abnormal crossing over, in the same mariner as the
Sxr
is transferred from Y to X in mice (Fig. 17.19) or (ii) due to mutation in a locus (which represses testis development), so that XX individuals now develop testes. Most of the XX males are found to possess Y derived DNA sequences thus supporting the first model. In the second model, it is believed, that in XX females, ordinarily there is repressor locus suppressing testis development and that in XY males, this repressor locus is neutralized by Y and allows testis development. It is possible that in different cases of XX sex reversed males, each of these two models holds good.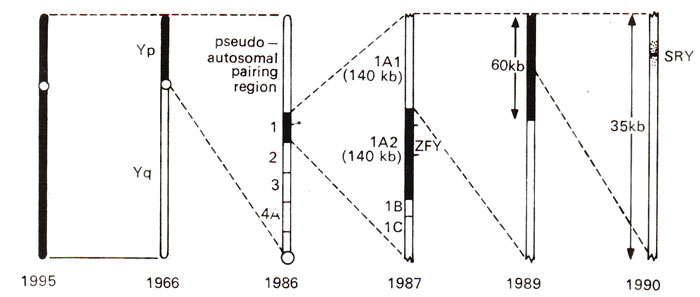 Fig. 17.20. The history of the progress made during 31 years, for locating the testis determining factor. The region, which was thought to include TDF at a particular time is shaded (black); the search was narrowed down from 30-40 million bases (1959) to less than 250 bases (SRY)encoding the conserved 80 amino acid motif (1990).
TDF, ZFY and SRY genes in humans
A few years ago, a gene (
ZFY;
ZF stands for zinc finger) was found on human Y chromosome, which was then believed to be
TDF
that was found in sex reversed XX males, but absent in sex reversed XY females. This
ZFY
was found to be present in several animals (as shown by DNA hybridization) and should therefore be conserved during evolution. It was also shown to encode a DNA binding protein of the class characterized by multiple zinc binding sites, hence the name
ZFY
(see
Expression of Gene : Protein Synthesis 2. Transcription in Prokaryotes and Eukaryotes
). It has also been found to cross-react with a sequence on the X chromosome (
ZFX
)and also with one on an autosome (
ZFA
)
,
but we now know that none of them produces the functional transcripts, playing a role in sex determination. On the other hand, recently (in 1990) another gene
SRY
in humans (or
Sry
in mouse) has been located in sex determining region of the Y chromosome. This gene has many properties expected for
TDF.
In some sex reversed XY human females, a
de novo
mutation was found in the
SRY
gene, suggesting that
SRY
is required for male sex determination. This human sex determining region
SRY
has been delimited to a 250 bases coding for 80 amino acids and located on the Y chromosome. It seems to be conserved and specific to the Y chromosome of all mammals examined. The history of the search for
TDF
in humans is shown in Figure 17.20.
H-Y antigen and male development in mammals
In mammals, a cell surface antigen, H-Y (originally recognized due to rejection of skin grafts from males to females) has been shown to express in males. In mice,
XX-Sxr
males also express H-Y, because
Sxr
region contains
Hya
gene. In view of this a causal relation between H-Y and sex determination was suggested which is now refuted, because
XX-Sxr
(a new mutation) lacked H-Y, although it was male. It is, therefore, suggested that
Hya
is closely linked with
Tdy
but is not necessary for testis development. In humans also,
Hya
maps on the short arm of Y chromosome and
TDF
on the long arm. Most XX males are H-Y negative, thus suggesting that HY antigen does not play any direct role in male sex development.