Some microorganisms split apart (hydrolyze) large organic molecules and then use the component parts in further metabolic processes. Starch is a polysaccharide that is hydrolyzed by some bacteria. When iodine is added to the intact starch molecule, a blue-colored complex forms. If starch is hydrolyzed by bacterial enzymes, however, it is broken down to simple sugars (glucose and maltose) that do not complex with iodine, and no color reaction is seen.

The medium for this test is a nutrient agar containing starch, prepared in a petri plate. The organism to be tested is streaked on the plate. When the culture has grown, the plate is flooded with Gram's iodine solution. The medium turns blue in all areas where the starch remains intact. The areas of medium surrounding organisms that have hydrolyzed the starch remain clear and colorless (see fig. 17.1).



Purpose
To distinguish bacterial species on the basis of starch hydrolysis
Materials
Starch agar plates
Slant cultures of Escherichia coli, Pseudomonas aeruginosa, and Bacillus subtilis
Gram's iodine solution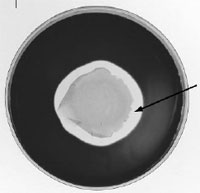 Figure 17.1 Bacillus subtilis colony on a culture medium containing starch. The culture plate has been flooded with a weak iodine solution, which reveals a zone of clearing around the colony (arrow). This zone represents the area where the starch has been hydrolyzed so that it is no longer available to react with the iodine solution.